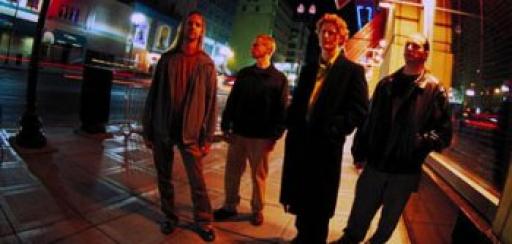 About Us Terramara
Melodic, piano-based pop/rock songs with clever harmonic twists and intelligent lyrics. A sonically rich and adventurous sound both catchy and complex.
Terramara is the brainchild of Minneapolis-based singer/songwriter/keyboardist Rob Meany, who formed the group in 1998. Over the last ten years the band has released three full-length albums and won numerous awards for songwriting and performance. In addition to Rob Meany on keys and vocals, Terramara features Karl Koopman on guitar, James Towns on bass, and David Thomas on drums. Although the line-up has changed around Meany over the years, the current players have been in the fold since 2001, with the exception of Towns who joined in 2005.
Terramara released a self-titled album in 2000 and followed up with a second, Four Blocks To Hennepin, in 2005. Both recordings were produced by Ken Chastain in Minneapolis. Critics and fans alike were quick to compare their sound to Steely Dan because of Meany's penchant for writing jazz-influenced rock songs with plenty of harmonic twists and turns.
Following the release of Four Blocks To Hennepin in 2005, the band undertook a big promotional push. A college radio campaign yielded adds on almost 300 college and public stations, and many top 30 adds. At least 40 stations had Terramara in heavy or medium rotation. St. Mary's College in Winona, Minnesota had Terramara's single, "Running Down The Avenue" at
#1
for eight weeks in a row.
The band also won a number of awards during this period, including the WB Minnesota-sponsored "Strictly Original" New Music Competition, with two performances broadcast on this prime time TV program in August 2005. Out of hundreds of local bands, Terramara was selected by audience vote and by a panel of judges as the overall winner. Prizes included a recording contract, free promotional materials, and a year's worth of pizza.
Rob Meany and Terramara also garnered some awards for songwriting in 2005, including:
Second place in the Billboard Songwriting Contest for their song "Goodbye".
Grand Prize in the Positive Pop Song Contest for their song "Outrunning Headlights".
Top Five Finalist in the Independent Music Awards (IMA) for their song "Running Down The Avenue".
2006 culminated in a nomination for Best Pop Artist at the Minnesota Music Awards.
In 2007, Terramara went back into the studio to record its third album. Feeling a desire to move in a new direction musically, the group enlisted the help of Jon Herchert to produce a more straight-forward, guitar-driven album. While retaining much of Terramara's signature sound: piano-based pop songs with rich harmonies and clever lyrics, the new recording shimmers with layered guitars, and shades of ambient and electronic sounds in the mix. It is by far the most sonically rich and adventurous Terramara album to date, while at the same time its most accessible.
The new album, Dust & Fiction, was officially released at a massive show on Oct. 11, 2008 at the Trocaderos nightclub in Minneapolis, with a 12-piece band assembled to recreate the sonic variety contained in the recording.
The new album has already garnered airplay nationwide on XM Radio and been featured on local radio (Cities 97) and TV (KARE 11).
For more information, visit www.terramara.com.
Terramara Also On
Followers:
Recently Rated:
stats
Tag Cloud: