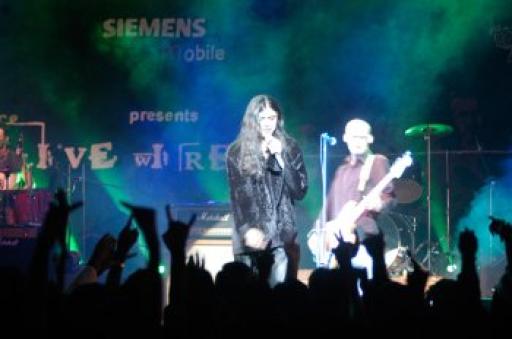 About Us QED
Q.E.D is a four-member rock band from Winnipeg, Manitoba presently promoting their third CD titled "[Sometimes a Cigar…is just a Cigar]". Conceived in 1995 in Edmonton Alberta, Q.E.D has always strived to deliver a highly energetic and stimulating audio-visual show. Q.E.D has played successful tours in Canada, India and US.
A tour of Canada and Asia is being planned to support the latest album.
Recorded and co-produced at Red Door Recording Studios (Saskatoon, Saskatchewan) by Ryan Andersen (Nickelback—The Long Road, Theory of a Deadman, Moist etc.,) and mastered in Los Angeles,USA by Rob Beaton (Chinese Democracy ["Sorry" and "Shackler's Revenge"], The Whole Nine Yards, Buckethead and trailers for Lord of the Rings and Batman Begins) this enhanced CD contains eight guitar driven, melodic songs. The enhanced CD portion consists of studio footage, pictures and member biographies.
Q.E.D is a diverse multicultural band whose members bring sonic intensity from their international and national backgrounds. The amalgamation of this music and personal experience is Q.E.D.
"[Sometimes a Cigar…is just a Cigar]" is available online/stores at www.dynastyrecords.com , www.indiepool.com (includes storefronts iTunes, Amazon MP3, eMusic, Verizon, Rhapsody etc.,) Online and Store Distribution: Dynasty Records (www.dynastyrecords.com)
Agency and Touring: Trent Schmeidge, www.graffittimusic.com,001-306-933-1971
The web site at www.qedmusic.com and www.myspace.com/qedrocks and www.facebook/QEDMUSIC will be updated regularly with webcasts, photographs, reviews and tour information.
The media (print, radio and television) have given rave reviews to the previous CD by Q.E.D "Searching For Adjectives" in Canada and overseas and the new CD will certainly garner an excellent response.
After constant and extensive North American tours Q.E.D has established a reputation for setting the standard for performance.
QED Also On
Followers:
Recently Rated:
stats