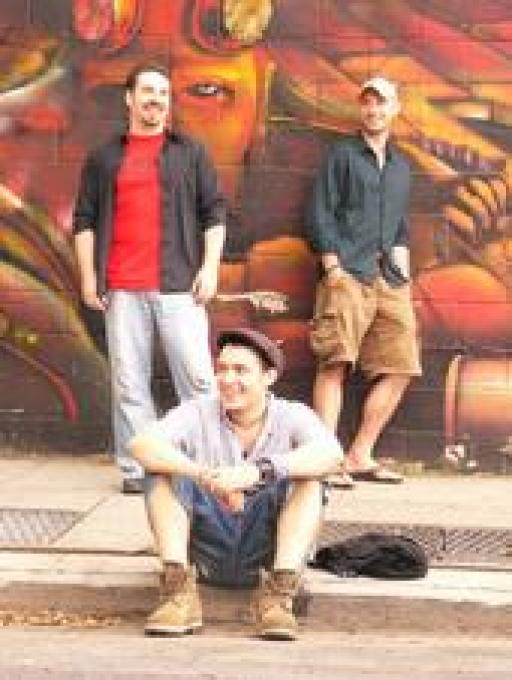 About Us Pie Boys Flat
Pie Boys Flat has sound all together original - a unique island groove comprised of reggae, funk, soul, and 3-part harmony with a fresh blend of percussion and guitars. Their writing shows influences ranging from Sublime to Bob Marley to Jack Johnson Pie Boys Flat hit the NYC music scene in 2003 with their unique blend of Reggae, Blues, and Funk. Their writing shows influences ranging from Bob Marley to Jack Johnson to Sublime to Paul Simon and has melded into a form of ethnic Rhythm and Blues that sits firmly in the pocket of a style all its own. Laced with soaring three-part harmonies, their music is the manifestation of a many year friendship and collective musical intuition. Patrick Hambrick (Guitar/Vocals), Fitz Harris (Percussion/Vocals), and Jason Liles (Bass/Vocals) met in the late 1990's at Shenandoah Conservatory in Virginia, where the trio formed a bond that is now apparent in both their writing and performing.
Pie Boys Flat started out playing arrangements of their 5-hour cover-tune repertoire on the subway platforms of NYC. They have gone on to book regular dates at Mo Pitkens, CBs Gallery, The Bitter End, The Cutting Room, Suite 16, Lounge 32, Tailors Hall, Gibneys, The Pig 'n' Whistle, and build a dedicated following throughout the five boroughs. In addition, PBF has been hired for reoccurring, guest-artist appearances at venues up and down the east coast including their alma mater, Shenandoah Conservatory. In 2004, Pie Boys Flat was commissioned by Globe Entertainment for a four-month tour through the Greek Isles with an extended stay on the isle of Kos. Playing 3 hours a night, 7 nights a week for the full duration of their tour, PBF sold over 800 copies of their first LP, Come Taste the Pie, to tourists from all over Western Europe, Scandinavia, Australia, and many Middle-Eastern countries.
Upon their return to the states, PBF once again teamed up with their friend and Grammy-nominated producer, Tommy Faragher, to produce their second LP, Post No Bills. Through NYC club/internet promotion, the all-original, twelve-song CD sold by the hundreds across the U.S. and Europe. In 2005, PBF joined NACA and launched their first college/club tour of the eastern United States, taking them as far north as Canandaigua, NY and as far south as Laurinburg, NC.
Over the course of their 4 ½ months on the road, the Pie Boys found two weeks to team up with friend and new producer Sean Moffitt to record their first full-length, full-scale album Uproot The Island. The album was released June 3rd, 2006 at ULYSSES in downtown, Manhattan and is currently on sale at www.pieboysflat.com, CDbaby.com, or at any live PBF show. With the release of their new album, Pie Boys Flat is gearing up for a very busy and exciting 2006/07.
They have once again joined NACA, been selected to showcase live at 3 regional conferences (Mid-Atlantic - Lancaster, PA, Northeast - Marlborough, MA, Mid-America - Peoria, IL) and have already begun booking dates for what is shaping up to be a packed U.S. tour beginning in September 2006.
As always, Pie Boys Flat remains steeped in rootsy, Southern grooves and rich, soaring vocals, so, whether a seasoned veteran or a new-found fan, make sure to catch PBF in 2006/07 because this explosively high-energy trio has only begun to flourish.
Pie Boys Flat Also On
Influences:
Sublime, Bob Marley and Jack Johnson
Followers:
Recently Rated:
stats