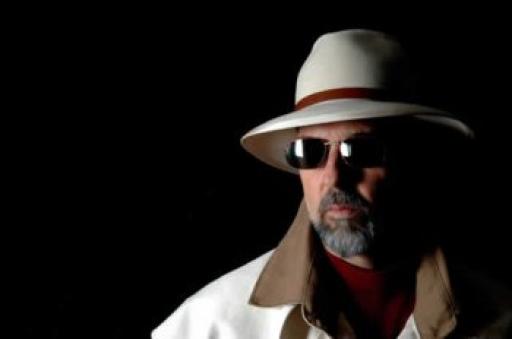 About Us Drumbo
A craggy, bluesy, melody-laced mixture of interlocking rhythms and straight-ahead emotion that no one with a love of experimental rock will want to miss.

John French was born in the California desert community of Lancaster, also home to Frank Zappa and Don Van Vliet – the once and future Captain Beefheart. His first instrument – the only one offered by his school for free – was the mellophone, a large, curving brass that earned its player the nickname John French Horn. His switch to drums was inspired by rambunctious player Sandy Nelson, known for recordings like "The Birth of the Beat" and "Let There Be Drums." "I loved his solos," says Drumbo, "which were more tom-tom and less snare."

From 1964 to 1966, while in his teens, French gigged with the group Merrel and the Exiles (which had earlier included guitarist Jeff Cotton, known later as the Magic Band's "Antennae Jimmy Semens"), then worked alongside Cotton in the bands Intruders and Allusions. In 1966, French and Cotton teamed with bassist Mark Boston (who would become "Rockette Morton") in Blues in a Bottle, a group that was later joined by Bill Harkelroad (who's moniker would soon be "Zoot Horn Rollo") and thus brought together the key players on "Trout Mask Replica." Interestingly, Drumbo sang and played harmonica in this latter band, never touching the drums.

Drumbo returned decisively to the drums in October 1966, when Van Vliet asked him to join The Magic Band. This began Drumbo's nearly 15-year working relationship with the demanding and mercurial Captain, a period marked by astonishing musical invention yet frequent and frustrating personal dissonance.

In their debut LP, 1967's "Safe As Milk," Drumbo's drumming exhibited an angularity and use of quasi-African rolling rhythms that were new to popular music. The approach was developed over the band's next two records, "Strictly Personal" (1968) and "Mirror Man" (a record that was actually an early version of "Strictly Personal," though not released until 1971), to often stunning effect.

Drumbo's work exploded on "Trout Mask Replica," an album immediately and still hailed as a milestone. Beyond mastering the jagged rhythms, multiple time-signatures and unprecedented intensity that marked the record, French's playing reconceived the drums as equal partners in the electric ensemble. No longer merely laying down time, French's playing offered vastly creative counterpoints and counter-melodies, giving the record a punch and vitality that, to many, is still unmatched.

Further, Drumbo served as the unofficial musical director for the album, transcribing and arranging Van Vliet's knotty, often fragmentary lines and helping communicate them to the band. Yet despite this, Van Vliet excluded all credit for Drumbo on the record's original pressings; listeners were treated to an album full of genuinely revolutionary drumming with no one listed as having played it. Then Van Vliet fired the man who many believe gave Beefheart's music the rhythmic spark that was among its sovereign achievements, and that he was never able to recreate.

Nevertheless, the two came together several more times. French was rehired for the brilliant Beefheart record "Lick My Decals Off, Baby" (1970) and "The Spotlight Kid" (1972), as well as for 1976's "Bat Chain Puller," which, due to legal complications, remains unreleased. Finally, Drumbo contributed to what is clearly Beefheart's greatest late-period disc, "Doc at the Radar Station" (1980), on which he played guitar, bass and marimba in addition to the drums.

After leaving The Magic Band for the second time, Drumbo linked with Harkelroad, Boston and others to form Mallard, which recorded two LPs in the middle 1970's. After his final Beefheart departure came a venturesome mix of relatively short-lived projects, recorded while Drumbo played jazz at a local club to earn his living. One highpoint was 1987's "Crazy Backwards Alphabet," an incendiary album recorded with guitarist Henry Kaiser, bassist Andy West and vocalist/drummer Michael Maksymenko. Another striking collaboration was the quartet known as French, Frith, Kaiser, Thompson. The band was formed of the French-Kaiser team joined by Henry Cow founder Fred Frith and ex-Fairport Convention guitar virtuoso Richard Thompson. They released two records: 1987's "Live, Love, Larf & Loaf" and "Invisible Means," from 1990.

Slowly, inevitably, during this time, Drumbo's prowess as a musician accumulated the recognition that is its due. One result was that he was asked to lead his own recordings. "Waiting on the Flame" (1995) featured four tracks with Bill Harkelroad, while "O' Solo Drumbo" featured no one else at all: it's a unique album of unaccompanied percussion, recorded in 1998 and much of a cult item among Beefheart loyalists. But the record is not without precedent: in 1996, Drumbo was asked to give a solo performance by the London Music Collective, which was part broadcast by the BBC.

In 2003, Drumbo spearheaded a long-sought reunion of The Magic Band. Working with bassist Mark Boston, guitarists Gary Lucas and Denny Walley, and Michael Traylor on drums (sitting in when French sang), the group played the "All Tomorrow's Parties" avant-garde festival and toured Europe. Many fans, thinking such a day would never come, traveled thousands of miles to get to the gigs. The reunion produced two CDs – 2003's "Back to the Front" and "21st Century Mirror Men" (2005) – along with a 2004 "Live in Concert" DVD.

But Drumbo is not one to dwell in the past. He is keen to keep growing as a drummer, a composer, an arranger and a bandleader. His new album, "City of Refuge" proves that his past is only his springboard – and provides sterling evidence that John "Drumbo" French has massively more to give.
Drumbo Also On
Influences:
Frank Zappa, Don Van Vliet
Followers:
Recently Rated:
stats