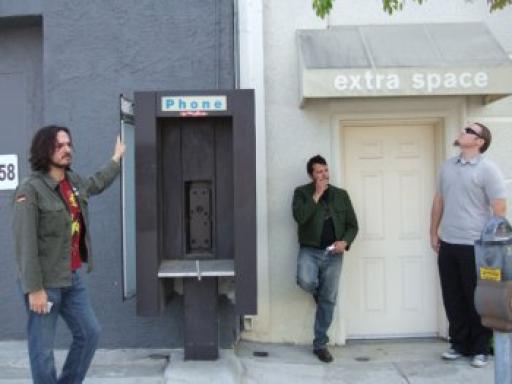 About Us Dialtone
Los Angeles-based three-piece Dialtone is lead by singer/guitarist Paul Orea, with his brother Mike Orea on drums/background vocals and George Maiale on bass. If Bryan Ferry from Roxy Music decided to sing with The Pixies or if Franz Ferdinand grew some balls, that would be Dialtone. Indie rock is the genre they fit best in, although their music would be at home on alt-rock and garage rock stations too.

Their sound comes from a variety of sources: 60's garage rock bands recorded on duct taped equipment, 80's alt bands standing out in a sea of synthesizers, 90's grunge rockers challenging their punk rock predecessors. The music they make, a fusion of power pop, Indie angst, and good old fashioned rock n' roll, creates a sound that is uniquely Dialtone's: New Wave-Grunge-Disco-Punk.

Dialtone currently plays gigs around the L.A. area (notable locations include The Viper Room and The Whiskey) and have completed two tours. The band has self-released two 5-song EPs and in June 2008 released their debut album "No Hang-Ups". The singles "Emo T-shirt" and "Shake That ****" were featured on local Los Angeles radio stations and XM-Satellite radio.
Dialtone Also On
Followers:
Recently Rated:
stats
Tag Cloud: